Standup - Comedy Poland
English Stand-Up Comedy in Rzeszów - Feliga, Rygielski, Sosnowski, Martin K - (@PolandComedy)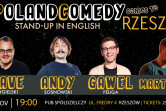 ---
O wydarzeniu
Surprised to find out that people speak English outside of Warsaw too, the best Warsaw comedians are coming to your city to give you a night full of laughs and spilled drinks! Don't let the surnames fool you - these are not ordinary Polish comedians - these are children of immigrants who couldn't make it in Poland! Being dragged around the world by their loser parents, they have collected the trauma and coping mechanisms necessary to be seriously funny. The @PolandComedy crew is known all around Warsaw for hosting their unforgettable events, and now, they're coming to make a mark on your city. And anyway, what else have you got to do in November?
The performers are:
DAVE Rygielski - Encouraged by the 100k views and 3 death threats he received for saying 'gays are kinda ok' in his Polish material, Dave decided to focus on English comedy, as not many other careers can pay for playing video games and lifting weights during the day. He was saddened to find out that this one won't either. Having spent the majority of his life in England, he is a true social justice warrior - and hates everybody equally. His mother clearly gave him growth hormone as a kid, but his whole family combined their forces to inflict the psychological scars needed to become seriously funny. He then spent five years studying philosophy so you can feel like he's smarter than you while he is insulting what you are as a person. He is now writing this in third person, and it is starting to feel kinda weird. Please come to my show? Pretty please?
Gaweł FELIGA - One of the most tenured comedians in Poland, and the host of the #1 comedy podcast in the country, he is always a sceptical misanthrope, he tries to defuse the situation by telling jokes about how lost we are. He loves stand-up, as it's the only activity where if you fail, people don't laugh at you. A 10-year veteran of the Polish scene, performed at clubs across the US, performed on Comedy Central, both in Polish and English.
ANDY SOSNOWSKI - A bilingual comedian, Andrzej 'Andy' Sosnowski was born in 80's Kielce, straight after the explosion of Chernobyl, which had quite a strong impact on the way he performs comedy. He spent half of his life in UK and other countries, where he committed a rather impressive amount of mistakes and adventures. He recently landed back in his home country of Poland, where he performs with some of the best polish comedians. He sports a ridiculously patriotic and stylish moustache, has a crazy laugh and absurd mind. Expect the unexpected.

MARTIN K - Polish guy with the solution, not a good one, just a solution. He'll help you find things to complain about in this country - he's one of the unique voices of his generation- too bad nobody can understand his accent.

Bilety do nabycia na:
tej stronie
To wydarzenie już się odbyło
Sprawdź podobne
Na koncercie wystąpią: Dave Rygielski, Badr Laffar and guests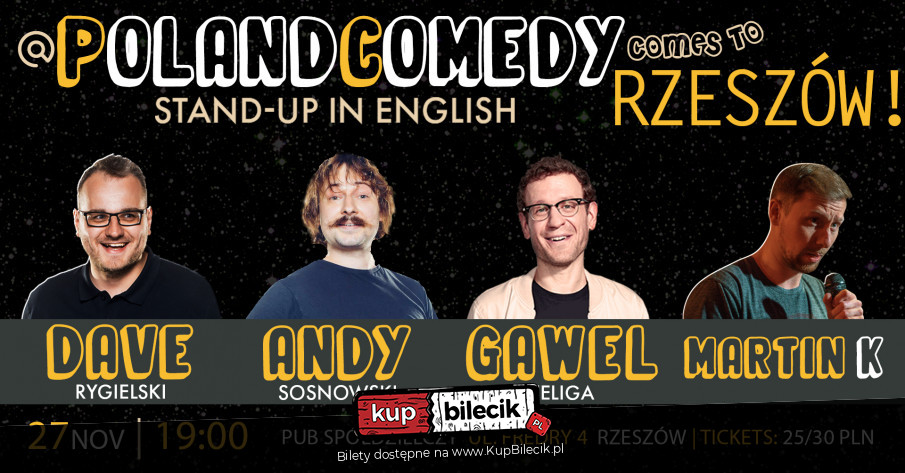 O artyście
That English Comedy Show brings you the best stand-up events in Poland. Check out our Sunday open mics at BarBazaar, Warmup Sessions shows in Boho22, and our international events in Klub Hybrydy! Bilety do nabycia na:
To wydarzenie już się odbyło
Sprawdź podobne
Znajdź nocleg w pobliżu