Standup - Comedy Poland
Poland Comedy in Budapest - Dave Rygielski, BADR, Gaweł Feliga, Ulvi Balayev - Stand-Up in English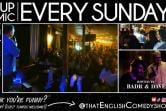 ---
O wydarzeniu
Stand-Up Comedy in English, in Budapest, performed by guys from Poland?! Yeah, that's something you wanna see. What else you got to do on a Thursday? The best of the English Comedy scene in Poland is coming to Budapest to take over Down Under Bar, Ó u. 37 for two days - THURSDAY 26th & FRIDAY 27th of May.
The performers are:
DAVE Rygielski
Encouraged by the 100k views and 3 death threats he received for saying 'gays are kinda ok' in his Polish material, Dave decided to focus on English comedy, as not many other careers can pay for playing video games and lifting weights during the day. He was saddened to find out that this one won't either. Having spent the majority of his life in England, he is a true social justice warrior - and hates everybody equally. His mother clearly gave him growth hormone as a kid, but his whole family combined their forces to inflict the psychological scars needed to become seriously funny. He then spent five years studying philosophy so you can feel like he's smarter than you while he is insulting what you are as a person. He is now writing this in third person, and it is starting to feel kinda weird. Please come to my show? Pretty please?

Gaweł FELIGA
One of the most tenured comedians in Poland, and the host of the #1 comedy podcast in the country, he is always a sceptical misanthrope, he tries to defuse the situation by telling jokes about how lost we are. He loves stand-up, as it's the only activity where if you fail, people don't laugh at you. A 10-year veteran of the Polish scene, performed at clubs across the US, performed on Comedy Central, both in Polish and English.

BADR LAFFAR - The most explosive Syrian comedian. That's saying something. His surname sounds a bit like 'laughter'- Because it's made up. We made it up because he may or may not say things that will put his family back at home in grave danger. You have to see it-unless you're from the Saudi embassy. In that case, there's nothing for you to see here. No, really. Please don't come. At least wait for the show to be over before you take him.

+ Ulvi Balayev
Bilety do nabycia na:
tej stronie
Kup Bilety na standup
Na koncercie wystąpią: Dave Rygielski, Badr Laffar and guests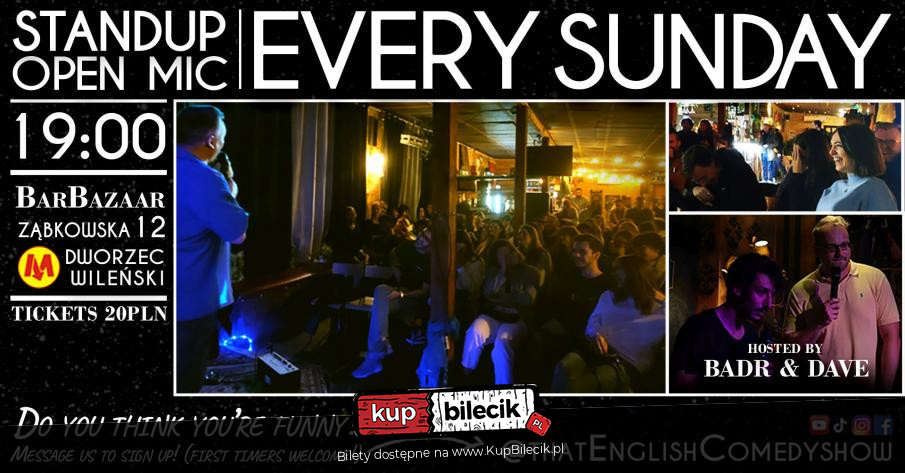 O artyście
That English Comedy Show brings you the best stand-up events in Poland. Check out our Sunday open mics at BarBazaar, Warmup Sessions shows in Boho22, and our international events in Klub Hybrydy! Bilety do nabycia na:
Kup Bilety na standup
Znajdź nocleg w pobliżu